Platinum Treatments
Treatments
Our team believes that everyone has the right to lead the best quality life, and the need to maintain the best level of health possible.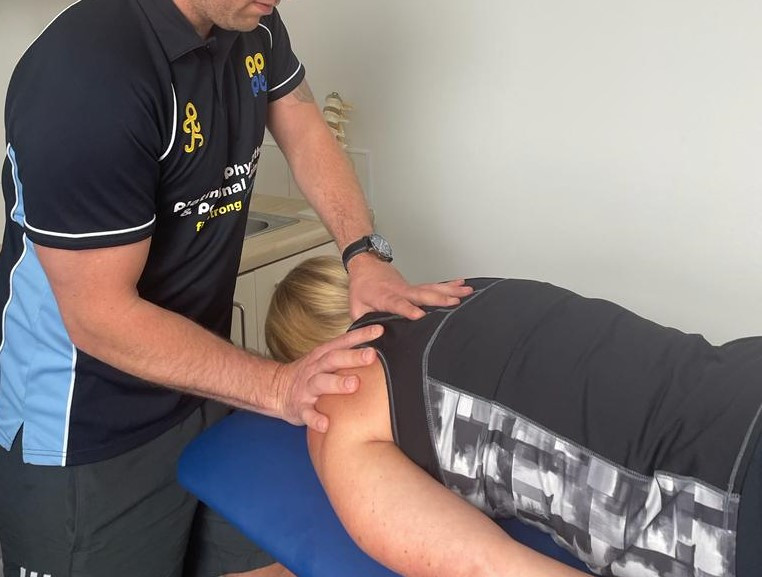 Not sure what you need? Talk to one of the experts at Platinum Physiotherapy & Personal Training
Contact Us
Reviews
What our customers have to say about us
Visit our reviews page to see more experience from customers we've worked with.
Reviews
The fundamental advantage of Platinum Physiotherapy's Video Link classes is flexibility, both time and location. Exercises are demonstrated and coached, and individual/group feedback is provided as required, or requested, throughout the session; there are plenty of opportunities to ask questions and to adapt exercises to suit an individual's needs. Participants are safe in the knowledge that if they have something specific requiring more hands-on attention, it can be followed up with a one-to-one appointment at the surgery, or online, with your qualified instructor. Likewise, most in-person physiotherapy treatments, and consultations, can be complemented by online sessions. With the multitude of time and day/night options available, it provides the opportunity to participate in a small class, with a professionally qualified physiotherapist, at a location to suit, literally anywhere in the world, whether at home, work, or even on holiday!
Anita
I am a 32 year old mummy who had a back injury during/after pregnancy - an MRI scan which showed a prolapsed disc. Being a new mummy was challenging enough, and on top of it being in the worst pain due to my disc injury I had days when I could not walk or lift my baby. I had been struggling for nearly a year when through a Facebook group I found this amazing physiotherapy programme. I had been taking painkillers, went to physio through the NHS which did not help, tried chiropractor sessions, osteopath and spent lots of money with no major improvement. Then when I had been in the worst period of my life Neil, who I did not even know personally, suggested to try the Swiss Ball classes. I have to say that this class saved me! I had been on a waiting list for surgery but Neil pushed me to keep working on my core and this was a total life changer. This is the 4th month and I am doing the classes and homework every week, I am walking, doing Yoga and I am nearly pain free. This has been a long journey and a long way to go to being full fitness, but I am on the right path. My back is much better so thank you Platinum
Annabella
Due to a long period of ill health ,my physical activity ,mental health, and quality of life was in decline. After consultation with the Platinum Team, I was encouraged to try their Swiss ball class. At that stage I thought I would be unable to engage in any physical activity or exercise class. Once I started the Swiss ball class, my fatigue reduced, my mental health improved and my positivity increased. Although my health issues have not resolved, I feel so much better engaging in some physical activity which is improving my overall strength and resilience. I feel safe and reassured that the classes are delivered by the professional Platinum Team, and they will tailor any required adjustments to the exercise programme to suit your individual needs. I have been given back the confidence to exercise, and this has given me the resilience required when coping with a long term health condition. I would encourage anyone to come along and try the Swiss ball class. Thank you Platinum Team" "I was recommended a trial class of Swiss Ball after a course of physio to help build my core strength. Having attended weekly via video link for a couple of years now, I have definitely noticed a significant improvement in my core strength, which in turn has improved not only my physical ability but equally as importantly my mental health. The classes are very well planned and delivered by a team of professional and approachable staff, with a different focus each week. With a range of times and classes to suit all tastes and abilities, both in the studio and via video link, I would have no hesitation in recommending Swiss Ball for a positive impact on physical and emotional wellbeing.
Bev
I just wanted to say thank you to everyone at Platinum for getting me back on my feet so quickly after my "accident". I have no doubt that all the previous sports fit and suspension training over the years helped give me a solid base and core strength to begin to speed my recovery from day one. I was fit to leave hospital earlier than they expected. The 'post accident' advice and treatment has no doubt helped me to get back out walking/working, again earlier than anticipated by the hospital. In less than three months, I've gone from lying on the road, unable to move, waiting for the ambulance, through building back up to my full weeks of dog walking and today braving the roads on my bike again. Whilst I still have some niggles to sort out I have no doubt at all that without your help I would not be anywhere near as fit and mobile as I am today. Thank you! I do not hesitate to sing your praises and recommend your practice whenever the opportunity arises. Thanks again, Craig
Craig
Went in with 2 separate knee ligament injuries and could hardly bend my knee. 30 minutes physio session and I felt great when I left. Highly recommended 5 stars. David
David
Had sports massage yesterday with Micheal , he really listened to the issues I have and gave me treatment accordingly, legs/hips/back feel different again today, can't recommend these guys enough , so friendly yet extremely professional! I'm in a great place for my ultra tomorrow. Thank you, Debbie
Debbie
"On a hilly trail run I badly sprained my ankle running down hill. I managed to run/walk/hobble 3 miles back to my car but as soon as I removed my trainer it swelled and started to bruise and I could barely put my weight on it. After seeing a photo Neil suggested I get an X-Ray to make sure there wasn't a break, and after confirming that he gave me some exercises to start building strength and movement. I expected to be out of running for at least a couple of weeks (probably a lot longer) and was really disappointed as I'd got a 20 mile run to do in two weeks. However, Neil said he was confident I would be running within a week and he was 90% sure I would be able to do the 20 miler!! After following Neil's advice and some hands on treatment I ran a 10k the following Saturday (just 6 days later) totally pain free. The swelling gradually subsided and the bruising is very nearly gone. Yesterday, 14 days after the injury, I completed the 20 mile run I really thought was out of the question. I had absolutely no pain and it didn't swell up again which I had expected it to. Neil has explained that I will need to continue to strengthen my ankle to prevent future injury. Without Neils advice I have no doubt I would have still been resting my ankle now and would definitely have missed my race."
Elaine
I have been coming to the video link Swiss Ball classes for over two years. They are absolutely brilliant and I really look forward to attending. The classes have really helped me strengthen my core . and back during pregnancy and afterwards. They are fantastic for people who are busy with a young family as they only take an hour out of your day. You do not need to allow time for travelling, changing or waiting for the class ahead of you- which you obviously need to with a class in person. I also found it less intimidating to attend initially than an in person class. The instructors are fun, kind and obviously very knowledgeable.
Eleanor
After suffering with neck, shoulder and headaches for a while I booked an appointment to see Neil. After having a back massage I can honestly say it has relieved the pains I was experiencing. Neil also showed me Swiss Ball exercises. Can definitely say I have muscles I didn't know I had!!. Will definitely be back to take part in the exercise classes. Thanks again!! Emma
Emma
I can't believe the change in such a short period of time. I was suffering some dreadful hip and knee pain now all displays of pain has disappeared. I now feel stronger fitness wise and always mentally stronger to get out again running. I can't thank you and your team enough I have always enjoyed keeping fit but sometimes it's slacked with the children and lockdown. I found my I am wanting to exercise now and it's not just a chore. Thanks very much
Hazel
I first started having the symptoms commonly known as sciatica 9 months ago. I was one of the fortunate ones and managed to see an NHS physio, get a nerve block injection and undertake private physio though health insurance within 3 months but I still needed a constant supply of anti inflammatories, pain killers and neuropathic drugs to live any semblance of normal life. Last week in desperation I was trawling the internet and found a comment from Platinum Physiotherapy on the UK Sciatica FB site. I made contact and had an immediate response which backed up my own thoughts that I wasn't doing too much exercise as had been suggested by all the health professionals that I'd seen, just the wrong sort of exercise. Fast forward 6 days and under the close guidance of Neil and the team with their specialised video link Swiss Ball classes (and the exercise schedule that they set me) I have just spent a whole day helping to organise a local bonfire party without avoiding a single task due to pain and with no drugs! It feels miraculous and difficult to believe that less than a week ago, fully dosed with a drug cocktail, I couldn't take the dog for a walk it was just so uncomfortable! I can't recommend the Platinum team enough and I'm looking forward to working with them long term to ensure that this wonderful fit feeling lasts! I feel like an evangelist but it really does feel miraculous where I am now compared with last week! Thanks for all your help and see you on Monday where hopefully you'll see a bit of a difference from last week! …Helen
Helen
I have known Neil for many years having been a regular in his Swiss ball classes. I have tremendous respect for his professional skills BUT when he suggested a virtual appointment for my 12-year-old daughter to assess her knee pain I have to confess I was sceptical. Although mature for her age she isn't necessarily the best at articulating her pain and how can you examine, diagnose and demonstrate recommended exercises virtually? My daughter is a committed, competitive, amateur athlete and her knee pain has been impacting on training and performance. Trusting Neil, we went with it and I should have known better than to doubt him. Neil assessed her thoroughly and made a diagnosis of Osgood-Schlatters. He recommended an accelerated recovery model, which my daughter immediately embraced. Just 24 hours after her appointment she ran a 5k Park Run Personal Best (PB), after struggling to get near to her PB over recent weeks. I wouldn't hesitate to accept a remote consultation in future. Helen
Helen
Having fallen down the stairs and sprained both my ankles I got in touch with Platinum. I had my ankles xrayed first to make sure they weren't broken. I had an initial video consultation then a face to face. I limped into the clinic and when I left I felt like I was walking on clouds! I had 2 more treatments as one of my ankles was worse than the other and the improvement was astounding. I also religiously did the exercises that I was given to do between visits which helped massively too. Platinum is amazing and I will definitely be recommending them. Thank you so much, Julie
Julie
Always an amazing, professional experience from the team at Platinum Physiotherapy. I'm hypermobile and was having problems with my knees, Neil recommended their online SportsFit class and I could feel the improvements within a few weeks. The whole team is great to work with, they modify any exercise you are struggling with and are patient in their explanations. 100% recommend to everyone. Lauren
Lauren
I want to start off by saying Thank you so much to Neil. On Thursday morning our 8 year old couldn't put weight at all on his left ankle he was screaming in pain, so much so we ended up at the hospital. X-ray, ultrasound and bloods taken all fine. That night he screamed solid for 2 hours in absolute agony which isn't like him he plays rugby and is a tough kid. Anyway, I posted on a group asking for advice and Neil contacted me and said all the advice given on their is wrong. I was very sceptical but we spoke about symptoms and he gave me an answer and what exercises to do which my son started at midday Saturday, by 5.30pm he was fully weight bearing no pain and riding his bike the following day. I'm very grateful and can't recommend them enough. Linz
Linz
A couple of months ago I was suffering with terrible back pain which nobody had been able to help me with. Neil was superb in recommending exercises to fix it and I've since joined Swiss ball classes which have done wonders. The classes are brilliant - so much work goes into making them fun and interesting and every week is different. So so grateful to Neil and all the team for your help.
Penny
I just wanted to update you with the news that I have had several weeks of restored mobility and no discomfort/stiffness, since my recent visit. I've not felt like this for over four years and know it's been a team effort by you and your colleagues to help me - I'm mightily impressed with the treatment. Regards, Richard
Richard
The Swiss ball video link class is one of the best virtual classes I have done. The instructors watch and are very responsive to individual's needs. Everyone is supportive. I have definitely improved my balance and have developed a core! My running has benefited massively and my back. It feels nearly as good as the studio classes except you miss the chat with other clients! The whole Platinum Team are brilliant.
Shirley
Having been a client of PPPT for around 8 years, receiving professional advice and treatment for injuries usually caused by activities of daily living, accidents or falls. The face to face hands on treatment(s) have usually had me back to normal quickly, well as normal as a fit and active 71 year old male can be 😊 Just over 3 weeks ago I slipped on ice and landed very heavily on my arm and shoulder which resulted in numbness, intense pain and very limited movement. Thinking that it was bruising and hoping for the best I kept the joint as mobile as I could. After suffering for 3 weeks I eventually got in touch with Neil. Due to the clinic being so busy Neil offered a video link appointment. I have to admit having being used to a consultation followed by treatment I was a wee bit sceptical as to how effective this would be. During the course of the video link we had a thorough diagnostic chat. Under his expert guidance he talked me through the areas on which to apply pressure using my thumbs . After about 20mins off applying pressure and mobilisation to the area I had so much more movement and less pain in the joint. I am now aware of the areas to work on have some exercises to do. Without seeing the patient and having hands on I had my doubts that the consultation would be worthwhile. Clearly it worked for me. I do believe that it is a testament to the diagnostic skill, communication skills and the ability to impart critical information and clear demonstrations for a successful outcome. Working with the patient/client in a clinic or by video link works. Many thanks to Neil for the video link and care management all done remotely without which I would still be suffering. Trevor
Trevor
What We Do
We Provide a Variety of Specialised Services for Optimal Health and Fitness

Whether it be Face-to-Face at either the Platinum Clinic/Platinum Studio or via our unique Video Link treatments/classes, we offer top-quality, specialised services that help you become Fit, Strong, and Healthy. Our range of services includes:
Physiotherapy Assessment & Treatments

Sports Therapy Assessment & Treatments

Deep Tissue Massage

Functional Movement Screenings

Face-to-face classes in a fully equipped studio

Video Link Classes
FAQ's
Do I need a referral from a doctor to receive Physiotherapy/Sports Therapy?
No - you do not require a referral from a doctor to attend our clinic however if you are planning on using Private Healthcare/Insurance it is advisable to contact them in advance for pre-authorisation. We are registered with the vast majority of Private Health Insurers and can provide our Provider Number on request where relevant.
How long will it take to see results from Physiotherapy/Sports Therapy?
At Platinum we follow an "Accelerated Recovery" model - please see webinar on this by clicking https://www.facebook.com/166464966686/videos/1891879860969715. This model works on the basis that we ask our patients to diligently carry out a personalised home programme straight after the sessions to safely accelerate the recovery as soon as possible. Each condition/presentation is different and therefore we will work with you to develop a treatment plan enabling you to work towards achieving your goals in both the short and long term. If progress is not being achieved at the expected rate we liaise with your GP/consultant etc. to ensure the appropriate next step takes place as soon as indicated (e.g. x-ray/MRI scan/onward referral).
What conditions can Physiotherapy/Sports Therapy help with?
Physiotherapy/Sports Therapy can help with a wide range of conditions including musculoskeletal injuries, neurological disorders, chronic pain, arthritis, pre and post-operative rehabilitation, paediatric/elderly care and more. Please refer to the body chart above for a more comprehensive list of conditions that we commonly assess/treat at Platinum.
What is Physiotherapy/Sports Therapy?
Physiotherapy/Sports Therapy is a healthcare profession that focuses on preventing, managing, and rehabilitating physical impairments, disabilities, and injuries. It involves a range of techniques and therapies designed to improve movement, function, and quality of life. At Platinum, both our Physiotherapists and Sports Therapists use identical techniques/approaches in a style that is proactive, research-driven and involves our patients in every step of the decision-making process towards full recovery.
What should I expect during a Physiotherapy/Sports Therapy session?
During an initial Physiotherapy/Sports Therapy session, you will typically undergo an initial assessment to assist in the diagnosis of your condition and develop a personalised treatment plan. Your therapist will then use a range of techniques to help improve your function and mobility, which may include manual therapy (massage/mobilisations), specific exercises personalised to your presentation, and education as to the cause of the injury/pain.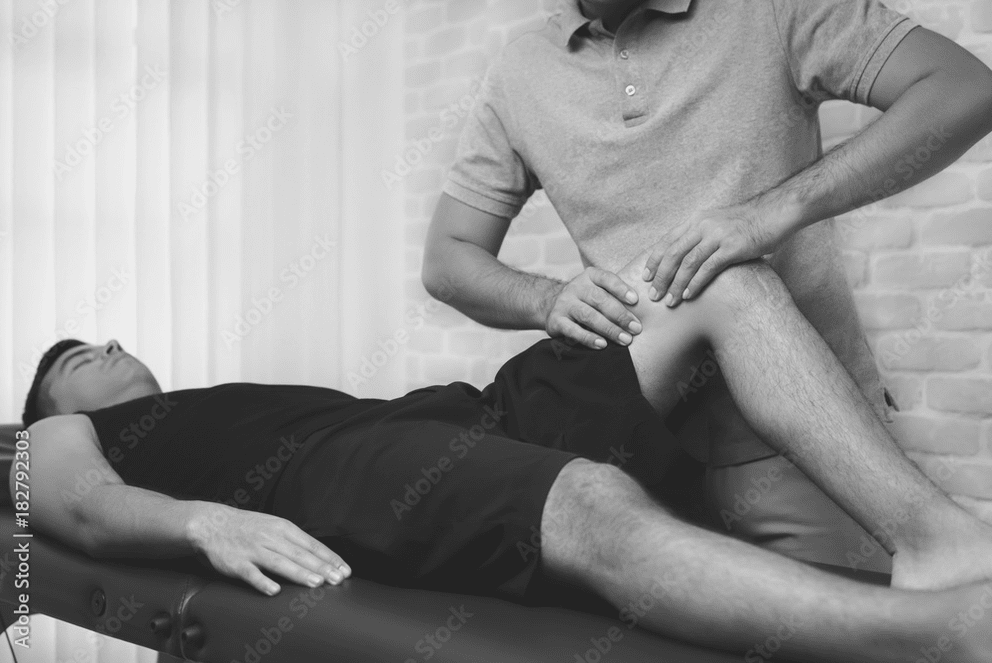 Not sure what you need? Talk to one of our experts.
Contact Us